European Car Performance Service

Services
European Car Performance is a full service auto repair business that provides service for all makes and models. We can provide the full range of auto repair and maintenance services from routine oil change services to a check engine light, to flushes, and all the way to the extremes of complete engine and transmission repairs and replacements -- We do it all!

Repairs
We perform repairs on European vehicles that other shops lack the capabilities to handle. Our certified technicians, with state-of-the-art testing and diagnostic equipment and huge inventory of repair parts, can keep you car in top condition. Here is a partial list of our repair services:

MAINTENANCE SERVICES AVAILABLE

Air Filter

Belts & Hoses

Battery Change-over & Charging

Cabin Air Filter

Catalytic Converters Free Testing

Cooling System Flush & Exchange

CV (constant velocity) Maintenance

Differential Service

Electrical System

Engine Pressure Clean

Exhaust system repairs

Fuel Injection Service

Glass Repair & Replacement

Headlight Aiming

Hi-Flo Catalytic Converters Replacement

Inspection I

Inspection II

Joint Repair & Replacement

Lighting (bulb replacement)

Look-up & Provide Technical Bulletins (when apply)

Muffler Replacement

Oil & Filter Changes

Power Steering Flush

Preventive Maintenance

Rack & Pinion Steering Repair

Security Systems

Service A

Service B

Service C

Shocks & Struts

Timing Belt & Chain

Transmission Fluid Service

Transfer case Fluid Service & Repair

Tire Rotation

Used Vehicle Inspection

Wheel Balance

Wheel Alignment

7,500, 15k, 30k, 60k & 90k Mile Maintenance Schedules (what is needed & what is recommended).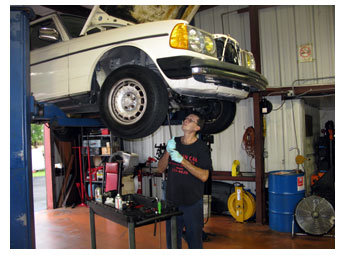 AIR CONDITIONING & HEATING SERVICE
Heating Service (includes diagnose failure & components that are needed)

Heater Core Replacement

Heater Hose Service

Thermostat (Mechanical & Electrical)

Dash Control Components

Automatic Temperature Control Systems

A/C Evacuate & Recharge Service (w/ EPA Approved Equipment)

Component Replacement or Repair where applicable of a failed component

System Performance Testing & Fluorescent Leak Detection Dye

Evaporator, Compressor, A/C Hose, Condenser, Drier, & All Related Components

We use the proper refrigerants that are designed for the vehicle. We do NOT use any blends; R-12 or R134a are the accepted standards.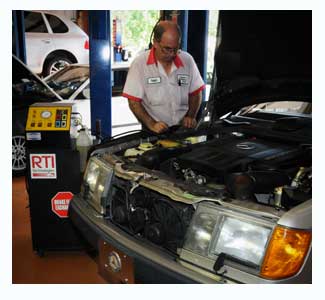 BRAKE SYSTEMS, AXLE SERVICE/REPLACEMENT & WHEELS
Brake Replacement (Disc & Drum)

Brake Calipers & Wheel Cylinders

Master Cylinder & Brake Bleeding

Power Brake Boosters

Hydro-Vac Units (Hydro-Boost)

ABS Diagnosis & Repair

Brake Fluid Flushing

Emergency Brake Repairs

Machine Service (for all types of drums & rotors)

Wheel Bearing Replacement & Repack (when applicable)

Front & Rear CV (constant velocity) Axle Service & Boot Service

Differential Repairs (both front & rear trans-axle & conventional)

Drive-Shaft Service

Suspension Inspection & Service

Wheel Alignment (front & rear)

Wheel Balance (using the Latest Technology)

Nitrogen Tire Inflation

Tire Rotation Service

Power Steering Repairs

Power Steering Flush Service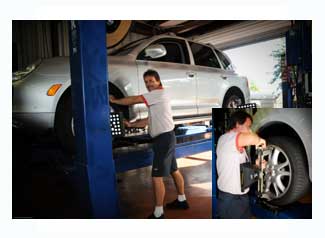 Routine Maintenance
Money spent on routine maintenance is an investment in the future of your vehicle. A properly maintained vehicle can save you time and money in the long run. Parts tend to last longer when a vehicle is properly maintained. Preventive maintenance reduces the possibility that you or a loved one will be stranded on the highway due to a breakdown. European Car Performance can get you onto a schedule and keep your vehicle in optimum operating condition.

Maintenance for Warranty
Warranties require that you maintain your vehicle according to specifications in order to keep your warranty valid. European Car Performance can keep your vehicle on schedule and document your warranty maintenance service, so that your warranty will not lapse or become invalid due to the neglect of maintenance. We honor most manufacturers warranties.

Contact Us for more information


All logos/images and trademarks are the property of the respective trademark owners. ® and ™, denote registered trademarks in the United States and other countries. European Car Performance is an independent repair shop and not affiliated with or endorsed by the respective trademark owners or any of their subsidiaries.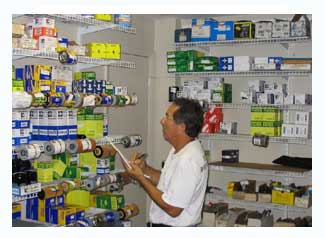 Parts Availability
Our huge inventory of standard parts for European vehicles is your best assurance that your vehicle will be serviced and repaired with minimal downtime. We are further supported by several parts dealers in our area and can get replacement parts on an same day or overnight basis in most cases.

ENGINE MECHANICAL REPAIR

Engine Replacement
Engine Replacement Through Major Manufactures

Engine Cleaning

Timing Chain & Timing Belt Service

Valve Work, Valve Grinding, and Cylinder Head Repairs

Engine Tune-Up

Engine Oil Leaks: diagnose, clean, and recommended repairs

Internal Gaskets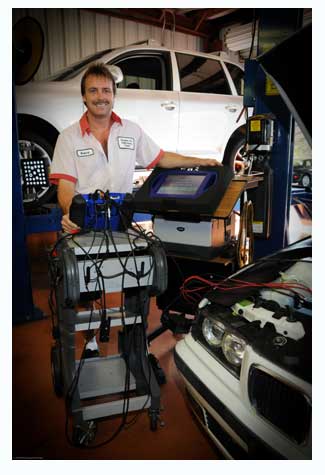 ENGINE, FUEL SYSTEMS, EMISSIONS, & PERFORMANCE
Engine Performance Service (Diagnostics)

Standard & Electronic Ignition Systems

Fuel Injection Service & Component Analysis

Emission Controls

Pattern Failure Analysis

Fuel Pump Service (Mechanical & Electric)

Carburetor Rebuilding & Set-Up Service

Emission 5-Gas Analysis & Repair

Fuel Tank Replacement & Services

Fuel Lines & Connections

Free Check Engine Light code Reading

Gas Gauge & Fuel Tank Sending Unit Service

Diesel Injection Service

Throttle Body Repairs & Clean and Service

Vacuum Leaks Diagnosed w/ Smoke Detection

ELECTRICAL CIRCUITS, SWITCHES, & ELECTRONICS

Computer Controlled Circuit Repairs

Power Windows, Power Doors, Power Seats, & Power Antennas

Cruise Controls

Electrical Shorts

Re-wiring for Harness Damage

Dash Gauges & Related Switch Service

Turn Signals, Flasher, & Headlight Circuits

Window Wipers & Washers

Radio & Related Components

Keyless Entry System & Key Fob Re-Programming

TRANSMISSION & CLUTCH SERVICE

Transmission Fluid Service

Automatic Transmission Internal Repairs

Automatic Transmission Re-Sealing

Electronically Controlled Systems

Replacement Transmission Service

Automatic Transaxle Service

Standard Transmission Rebuilding Service

Clutch & Pressure Plate Service (Regular & Hydraulic)

Hydraulic Master Cylinder & Slave Cylinder Repairs

Flywheel Machining (w/repairs)

CHARGING & STARTING SYSTEMS
Battery Service (w/ Nationwide warranty)

Complete Re-Wire Service

Burn Damage Repairs

Alternator Replacement

Drive Belt Replacement

Shorts & Opens that Affect Electrical Integrity

Starter Assemblies, Switches, & Cables

Trailer Wiring & Diagnosis

COOLING SYSTEM SERVICE & REPAIRS
Radiator Repairs & Cooling System Pressure Tests

New Replacement Radiators

Water Pump Service

Thermostats Operation

Freeze Plug (Expansion Plug) Service

Cylinder Head Gasket & Cylinder Head Service

Cooling System Flush

Coolant Exchange Service (when flush is not needed) Using Necessary Coolant

Thermostatically Controlled Circuits

Electrical Fan & Motor Assemblies

Cooling System Re-Hose Service (There are many hoses that do NOT get replaced because of location and availability)

Electrical Repairs to Dashboard Monitoring Lights & Gauges that Affect the Operation of the Cooling System



Pre-Purchase Inspections


Do not

buy a pre-owned vehicle without having it examined by a trained specialist at European Car Performance . If we feel that the vehicle will soon need costly repairs, we will let you know that. An accurate picture of the condition of the vehicle may give you leverage to negotiate for a better price or leverage to have repairs done at the sellers expense. We can also let you know if the cost of needed repairs on a vehicle that you are contemplating purchasing makes it a bad deal at any price.